What to pack for an Alaska cruise, especially for first-timers, can be a little challenging.  Maybe your Alaska cruise is on a small ship adventure cruise like Alaskan Dream Cruises or UnCruise Adventures.  Or maybe you prefer a larger cruise ship like Holland America's Eurodam, or Royal Caribbean's Radiance of the Seas.
Here is what you should pack for an Alaska cruise.  It's also what I pack for every Alaska cruise.
I've also included a printable packing list to get you on your way to the Last Frontier.  And my home for nearly two years.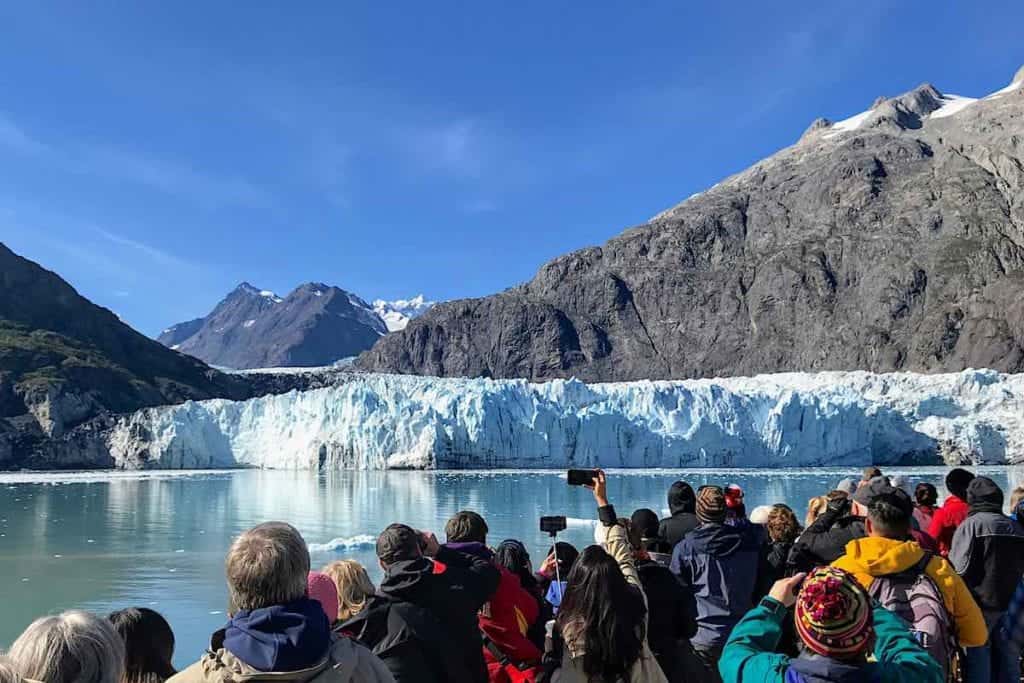 What to Pack for an Alaska Cruise 
When figuring what to pack for a cruise to Alaska, it's all about knowing what you plan to do on your incredible adventure to the 49th state. 
Will you spend time pre- or post-cruise in Alaska, Seattle or Vancouver?  What sort of shore excursions do you plan to do? 
And of course, the month you choose to cruise Alaska can be significant to determine what you'll pack.  
My point is, most likely you'll need to pack cruise clothes and land clothes.  And hopefully fit it all into one suitcase. 
Plus a carry-on and/or backpack for electronics, toiletries, documents and meds.  It only took me two cruises to Alaska to figure out what I should have packed…or left at home.  
I've cruised Alaska up and down the Inside Passage at least a dozen times plus four cross-Gulf voyages.  My cruises to Alaska happened in every month of the cruise season.  How to pack for an Alaska cruise in still-chilly May, in hot and buggy mid-July or possibly rainy September, all follow my basic packing guidelines. 
I hope my Alaska cruise packing list and tips help you to be prepared for one of the most incredible cruise and land experiences of a life time. 
Your Alaska Cruise Itinerary Can Determine What to Pack
Inside Passage Cruise 
The overwhelming majority of ships for seven-night round-trip cruises to Alaska depart from either Seattle or Vancouver, Canada.  A one-week Alaska cruise spends two days northbound and the same back plus three or four Alaska cruise ports, all in the Inside Passage. 
On any seven-night round-trip Inside Passage cruise from the Lower 48, you won't have the opportunity to spend a couple of days in Alaska before or after your cruise.
On the other hand, choose a small ship adventure cruise and your ship will probably embark and disembark in either Juneau or Sitka.  In this case, you can easily spend a couple of days on land before or after your cruise.
Cross-Gulf 
These Alaska cruises can also be seven nights with departures northbound from Vancouver and Seattle or southbound from Seward and Whittier, Alaska.  A cross-Gulf cruise will give you the time to spend in Alaska's interior before or after your cruise.
The clothes you'll need can vary, too. Especially if you cruise early or late in the season in May or September.
My Alaska packing list covers everything you'll need to pack for a 7-day Alaska cruise, like my Holland America Eurodam Inside Passage cruise. If your cruise is longer or you've chosen a cruise and tour, I also include how and what to pack. 
Basically, you would pack the same but plan on either sending out a load of laundry on the ship, doing a sink wash or hauling it into a town to a laundromat.  But there's more to know. 
Land Tour Plus Cruise (Cruise-Tour)
If you plan a cross-Gulf of Alaska cruise with a few days in Denali, Fairbanks or Anchorage (or all of them!) you're probably going to need to pack a little differently than for just an Inside Passage cruise. 
For one thing, it can get fairly hot in the summer in Fairbanks and very drizzly and damp in Denali.  That's the thing about Alaska; the weather is unpredictable.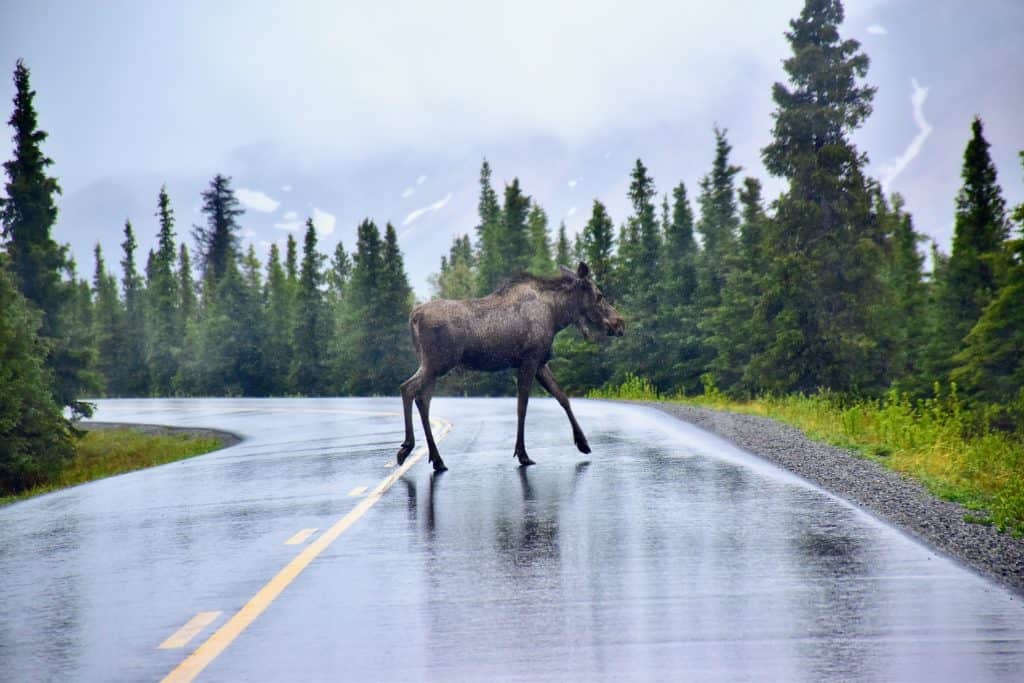 Whatever Alaska cruise itinerary you choose, I've covered all of it in my Alaska packing list. I've also included a list of those incidental items that you might otherwise forget.
Read next: 21 Best Things to do in Sitka, Alaska
Let's begin with the basics.  What goes in your suitcase and why.
This post contains affiliate links.  If you complete a purchase through the links, and at no cost to you, I may earn a small commission. Thank you!
Best Clothes to Pack for an Alaska Cruise
It's really important to remember that it is can be very chilly out on deck, especially at night. Then there's the cold wind off the water and glacier visits.  Brrr.  
Even though your cruise ship will still have two formal nights, unless you're on a luxury cruise, typical "formal" isn't over the top on an Alaska cruise.  Think dressy- or nice casual.  
Pants
Both men and women should pack at least one or two comfortable (but not torn) denim jeans.  I also bring a pair of nice unfaded black jeans that can double as dress pants on formal nights.  There should be enough room in your denim jean's legs if you need to put on a pair of silk or silk-like long "underwear" underneath.
I have two pairs of these Long John's sets, in black and beige. 
Last year, I also picked up a pair of stretchy black fleece-lined yoga/leggings pull-on pants at, of all places, Walgreens. They're super comfortable, loose in the waist and look good enough to wear around the ship with a long tunic.  
Those Walgreen's leggings can also get you through a workout in the gym or walks around the deck.  And they're easy to wash in the sink. 
One pair of shorts is sufficient in case of a few warm days.  Good and bad news about shorts. You'll be comfortable on a warm day but a good target for those pesky Alaska mosquitoes, A.K.A the National Bird.  Make sure they have pockets.  Guys might want those longer cargo-type shorts. 
A pair of capri pants would still keep you cool and offer less real estate for mosquitoes to land.  Just sayin'.
Formal Night Dinners on an Alaska Cruise
On formal nights in the main dining room or an upscale specialty restaurant, men can pair dark pants with a sport coat, shirt and and maybe a tie.  A guy could even get away with wearing a nice pull-over sweater and maybe a collar peeking out over the neckline.  Alaska cruises really are relaxed when it comes to dress-up nights. 
You'd be surprised how many people choose to eat at the Lido buffet on an Alaska cruise, especially on formal night. 
Note:  If the buffet is your preference, be prepared for a queue.  Once you get the timing for when the buffet is the least crowded, it'll be a nicer experience. 
Swimwear
Bring a swimsuit and cover-up, though you can use your bathrobe from your stateroom if there is one. If there isn't a robe, your room attendant may be able to get one for you to use. 
If your ship doesn't have a sliding glass dome over the pool, you may not need to pack a swimsuit at all.  Then again, if you're a spa person, bring one anyway.  Sandals or these thin, easy to pack flip-flops are always good for the pool and don't take up much space.
Though the sun was shining and there was a warm breeze, it was still too cold for most passengers to get into the pool.  This cruise was in August.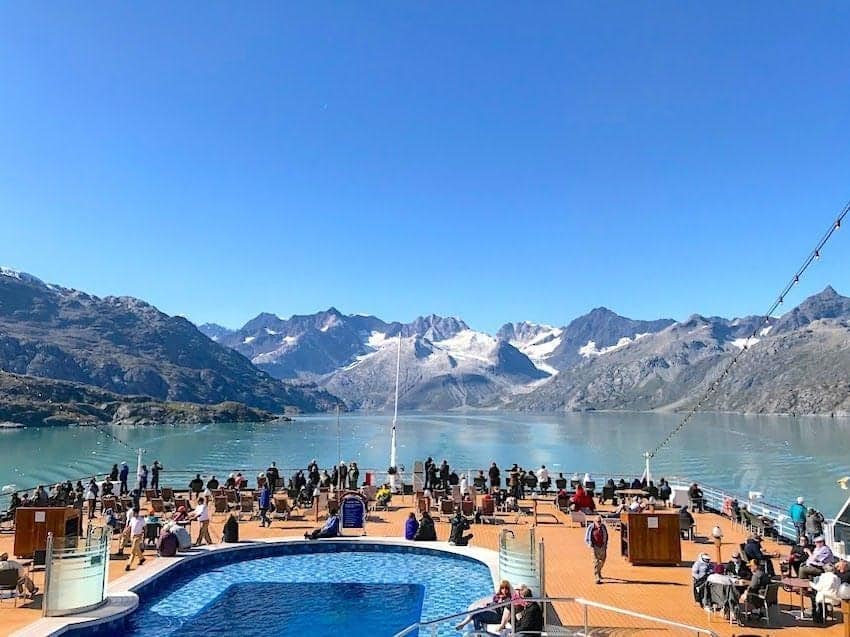 Should I Pack a Dress for Formal Night on an Alaska Cruise?
If you're simply more comfortable wearing a dress on formal night, by all means bring one.  If so, you might want to bring a pair of stockings or tights for a bit of warmth on your stroll around the deck.  
Again, if you're on one of the mainstream cruise lines like Carnival, Royal Caribbean or NCL, then if past experience holds well, there were not men in tuxedos or women in formal gowns.  
However, some people still love to dress up on formal night.  But like I said earlier, it's less common on Alaska cruises.  Long days spent touring, abundant daylight and getting your body clock adjusted all lean towards casual. 
Bring a couple of dressy lightweight scarves to spruce up and change up your look, especially if you're only bringing one black dress. Or buy a $12 neutral shade pashmina if your dress is sleeveless.  I use mine as an evening wrap as well as my outdoor scarf.  You can roll it up, and it won't take up much room in the suitcase.
Tops
I'm sure you've heard this before about packing for Alaska: It's all about wearing layers.  Here's where I have the most fun.
Comfy T-Shirts.  Definitely bring two or three.  I wear them under sweaters, to sleep in and to the gym. Multi-use items for sure. 
Or, if you think you'll buy one in Alaska, only pack one from home.  Who doesn't go all the way to Alaska and not buy a T-shirt!
If it's a chilly, damp or drizzly day, instead of a T-shirt under my sweater or sweatshirt I wear my long-sleeve silk-like top.  They're amazingly insulating. 
Similar to the one above with the Long John's, this is a mock turtleneck top for when I need something to keep my neck warmer.  I bought one in black (and it works for dressier evenings with the pashmina) and one in purple, not expensive at all). 
They're thin enough so I can still bend my elbows when wearing under a sweater.  Both this mock turtle and the scoop neck silk tops are handy to have and won't break your budget.   
Same goes for silk leggings (Long John's) to wear under jeans.  You'll forget you're wearing them.  They're great to keep you warm, especially if you choose one of the helicopter tours to a glacier…in early or late season.
What I Wear in Alaska on a Shore Excursion
Here's what I might wear on a shore excursion in the Inside Passage, especially to Mendenhall Glacier in Juneau.  Up close at Mendenhall Glacier may not only be icy-chilly but there's also spray off the water.  
First, I layer a silk or silk-like top underneath a crew neck or turtleneck sweater or sweatshirt (not too heavy).  Then…
Over the lightweight sweater or sweatshirt, I'll either wear a thin, loose-fitting waterproof rain jacket or my usual water repellent puffy jacket with hood, depending on if it's a sunny or rainy day.
Then I either wear or bring along a sleeveless puffy vest with a zipper.

Amazon Essentials Women's Lightweight Water-Resistant Packable Puffer Vest
This is almost a must-have item to pack. It comes with its own little carrying bag to squish the vest into for travel. You can also loop the little satchel around your carry-on bag handle. 
Plus, puffy vests are great to toss on in the morning to go to the Lido buffet or for a summer's morning walk around the deck with a cup of coffee.  
Make sure that it has outside zip pockets and maybe an inside pocket or two.  You can put your room card in the zippered pocket and not worry about it falling out when you sit down for breakfast, too. 
Tunic Tops
These are great for a multitude of reasons.  You can wear them over anything and at any time.  Get tunic tops for Alaska with enough room in the arms so you can wear a layer or two underneath.  That's another reason why I love my tunic crew-neck tops they're great for layering. 
This is the tunic top I bought for my Alaska cruises.  Actually, I bought two of them, one in navy and the other the black and white buffalo plaid.
The tunic neckline isn't stifling and has plenty of room for the mock or turtleneck top underneath without feeling constricted.
Long Sleeve, Side Slit Tunic Top
In the evening, you can dress up a dark colored tunic with a signature necklace (costume jewelry only, please) or a scarf and those nice black jeans.  It's Alaska!  No need to get decked out to the nines.  Unless of course you want to and your suitcase agrees.
Sweaters
I have two cozy turtleneck sweaters that I really love but are way too bulky so they stay home. Even putting them into plastic bags and squishing out the excess air, I won't bring them with me.
Instead, I found and will bring two lighter-weight knit crew neck sweaters.  They were on sale at Old Navy for $18.  I'll almost always wear the silky mock turtleneck underneath.  When my neck gets cold, the rest of me freezes.  Plus a scarf.
And I'm sure I'll end up buying a flannel shirt or a knit sweater somewhere along the way.  Pack less buy more.
Scarves
In addition to my usual one or two pashminas, I always pack a warm scarf.  On days when a heavier weight scarf would be overkill, I'll just wear a high-neck top and then if the weather suddenly gets warm, I can open my jacket and be comfortable.
So in addition to one or two thinner dressy scarves, bring that neutral colored pashmina. I've even used it to cover my legs on a particularly cold and windy whale watching tour.
Accessories to Pack for an Alaska cruise
You know…those extras that are sometimes forgotten…until you absolutely need them.  So I've added these essentials to the packing list.
Hats
Don't leave home without at least one.  The easiest and most packable is a knitted ski cap (beanie) or a floppy 100% wool beret. They can scrunch up and fit into your pocket if you get too warm.
Also, for both men and women, a good ol' baseball cap comes in handy.  I usually buy this on the ship or in Alaska and have a souvenir at the same time.
Don't worry if your hat is not waterproof.  Your jacket (see below) will have a rainproof hood to pop over it.
Gloves
YES! A necessity.  And…so you don't have to constantly take them on and off to take photos with your iPhone or Android, I really suggest device-enabled gloves.  
When you're out on deck or on a tour, putting your gloves on and off to take a photo is a real pain. Easy to lose a glove, too.  To solve this problem, I ordered these gloves to use with my iPhone. I've always loved Isotoners so that's why I went for the more expensive gloves with device-touch enabled finger tips.
isotoner Women's Stretch Fleece Smart-Touch Gloves
Socks/Tights
You'll need socks.  I bought two pairs of colorful striped Smartwool socks. I've never had a pair of wool socks and expected them to be totally itchy.  They're not itchy at all! I love my Smartwool socks. Very soft and cozy. And colorful!

I also bought a 3-pack of black socks, once again at Walgreens.  Black tights I bought at Target.   I have a pair of sheer stockings/tights for dress-up to wear with the one black dress that I always bring along. I call it my cruise uniform. 
Shoes
This is the toughest part of my packing dilemma.  I've already mentioned sandals/flipflops. What about formal night? 
In an emergency last year, I found a great-fitting pair of 2″ suede-like black dress shoes at Old Navy.  They've become a new part of my cruise uniform.  They work with my black jeans or dress on formal night.
Next, you really should bring already-broken-in hiking shoes with a tread.  First, I bought Merrells.  They weren't comfortable for me in the arch so back they went.
Then I bought this pair of Keen hiking shoes with "Alaska Blue" trim! I love love love these they're like wearing comfy slippers.  Plus, they're waterproof leather.
KEEN Women's Hiking Boots with Alaska Blue trim, of course. 
Also pack one pair of sneakers or super-comfortable walking shoes.  If you can get by with one, pick the sneakers.  Just make sure they're broken in, have tread and not totally mesh.
Boots for Alaska
Rubber boots.  Or as they're called up north, Alaska sneakers!  Actually, they're Xtratufs. Those brown rubber boots with the light colored trim on the edges.  You'll probably see people on the airplane wearing them when returning to Alaska.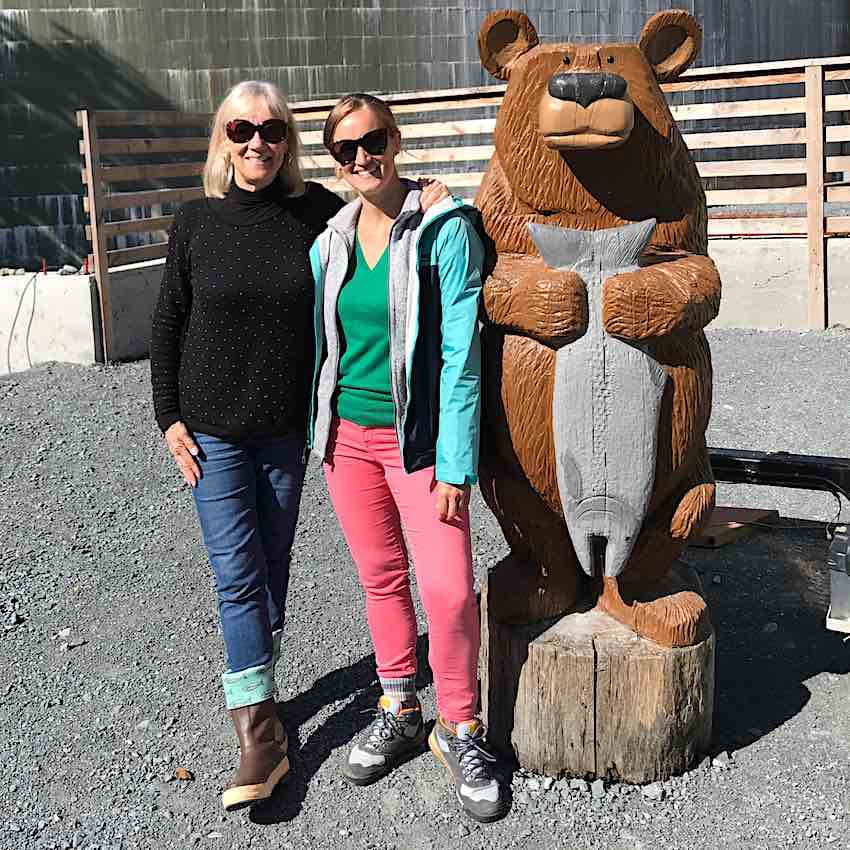 If you don't mind missing a couple of hours exploring Alaska, wait until your first port on your Alaska cruise to buy boots.  Head straightaway to the nearest shop where XtraTufs are sold.  Google it when your ship docks. 
I bought my first pair of Xtratufs (the ones above) at Murray Pacific Hardware Store on Water Street in Ketchikan a 15 minute walk from the downtown dock.
For women, be sure to buy the Women's Size and definitely add a wooly liner to the boot. The salesperson will know which liner to choose. 
I wear a 9 1/2 shoe.  My XtraTufs are a Women's 10 plus the liner.  Or you can save time and buy your boots now before you leave home.  If you wear them on Alaska Air, you'll fit right in with the locals!
Not only will you be able to slosh through mud puddles and step through little streams and squishy bogs, you'll get comments from the locals, who will immediately assume you're Alaskan. Or in my case, a Laskin. Sorry. Worst pun in the world.
Belt
I take a belt.  Why I don't know.  Only my jeans have belt loops.
Outerwear for Alaska's Unpredictable Weather
Rainproof Pants
This is a biggie.  Last year my daughter, who happens to love hiking and the outdoors, joined me on one of my Alaska cruises.  She brought her Gore-tex rain pants.
I chuckled when I saw those baggie bottoms, not realizing how essential they'd be on a hike in the rain.
Bottom-line:  She stayed warm and dry while my jeans, from the bottom of my jacket to my shoes were soaked.  As soon as I returned to Florida, I ordered these waterproof rain pants for my next Alaska cruise. 

Columbia Waterproof Rain Pants
Rainproof Lined Windbreaker with Hood
This is the best and least expensive of my Alaska-wear.  I have this waterproof rain jacket.  It's basic, loose-fitting with room to layer underneath. 

Waterproof Windbreaker Rain Jacket.  Yes it really is waterproof.
Not lined, it sits just below my hip and has a hood, a waist with a draw-cord and a protected zipper. And totally waterproof zip pockets, too.  I can wear my silk undershirt plus a medium-weight sweater underneath.  And…still bend my elbows. But on my next cruise to Alaska, I'll pack those rain pants, too.
Down- or Synthetic-filled Hip-Length Jacket with Hood
A must.  I'm on my third down-filled puffy jacket.  I'm just fussy and I like this one best.  It has a visible hood and two inside pockets as well as two outside with zippers. It's super light-weight jacket and has its own little carry-sack.
My favorite puffy jacket…with plenty of pockets and a hood.
If it's warm when I travel, I put it into a freezer ziplock bag and squish the air out of it.  It takes up even less room that way.  And it sits at mid-hip length.  It's also water resistant (not waterproof) and a windbreaker.
Miscellaneous Stuff to Pack for Alaska
Small Folding Umbrella
Southeast Alaska and the Inside Passage is in a rainforest, did you know that? It's the 17-million acre Tongass National Forest.  The Tongass is part of the largest temperate rainforest on earth.
While the temperatures in Southeast Alaska stay fairly moderate, the average amount of rainfall days is in excess of 230 days per year.  A small folding, windproof umbrella can be your best friend.

Repel Small Folding and Windproof Travel Umbrella
On the other hand, rain in Alaska comes with wind.  Horizontal rain is common and can quickly turn your umbrella inside out.  That said, when there's a constant drizzle, a small umbrella like this one comes in handy.  And pack those waterproof rain pants and jacket if it's windy.
Binoculars
You don't have to spend a fortune but a decent pair of binoculars will really enhance your chances to see wildlife.  Get small ones that you can stuff into a sneaker when you pack or into a little corner of your suitcase.  I travel with Nikon's small, folding waterproof binoculars.  It fits in your hand, weighs less than a pound and under $100.
Nikon Trailblazer Waterproof Binoculars
Daypack
For me for Alaska, a regular backpack to haul on a day trip is too heavy and bulky.  I bought two of these Bago Daypacks…one in hot pink for the Caribbean and a black and grey one for Alaska.  It folds up into itself for packing.  
Don't Leave Home Without These
Passport
Whether or not your Alaska cruise begins or ends in San Francisco or Seattle, you're going to need a passport if you want to leave the ship for a tour in Vancouver or Victoria, British Columbia, CA, usually a required service call when there's not a pandemic.  
Or if you or your companion become ill…you might need to fly home from Vancouver. You'll need a passport to fly back to the USA.
Make a color copy of your passport and keep in a separate place, in case you lose the original.
Plus, if your Alaska cruise begins or ends in Vancouver, you're going to need a passport for Vancouver.
Read More:  Why You Should Have a Passport for an Alaska Cruise
Medications
Always bring a few days' extra pills and keep with you in your handbag or carry-on.  Do not pack any medications in your checked luggage.
Insect repellent
Not my favorite item.  For the entire six-weeks I spent in Alaska last August and September, I didn't get one mosquito bite.  I was warned that they're nicknamed the state bird, but I guess was lucky. 
I was told anything with DEET is what you need.  Personally, I'd rather wear long sleeves and pants than use bug spray.  But I'll pack bug spray on my next cruise to Alaska.  Actually, for a Caribbean cruise nowadays, too. Dengue fever, you know.
Sunglasses 
A must.  And if you're doing any really active excursions, think about attaching a sunglass strap so you don't lose them.  
Sunscreen
Another product that I'm not thrilled to use, but a necessary one, especially on a glacier hike or trail walk.
Electronics to Pack for an Alaska Cruise
Bring a Camera
If you don't have a camera or the one you have is really old, this cruise is a good time to invest in a new one.  An Alaska cruise is really an unforgettable experience and you will want to preserve those precious memories. 
Don't wait until the day before you leave to buy it and learn how to use it.  Allow a few weeks to play with the camera. 
Take photos in your home and outside and get used to different lighting conditions.  Get a feel for your new camera.  Be sure to pack the manual, too.
I've been using my trusty Nikon 5600 for three years and I'm really happy with the results.  The 5600 came with two kit lenses, 18-55 and 70-300mm. 
I used the 70-300mm lens with this Joby Gorilla travel-size tripod for a DSLR camera, to capture the Northern Lights on an Inside Passage cruise.  Here are the results.
Camera Battery Charger and a Second Battery
Plus, bring along some spare regular AA batteries. You never know.
Camera Lenses
If you already have a camera, think about bringing a zoom lens.  If you don't have one and can afford it, buy one.  Why? To capture close-up images of the glaciers, wildlife foraging along the shore and on and on. 
l love my iPhone and take thousands of photos on every trip.  But I grab my "real" camera with the zoom already attached, whenever someone yells, "whale/eagle/bear at 2:00 o'clock!"
When you are out and about on a shore excursion, toss a zip-lock plastic bag that can fit the camera into your day pack.  You never know when you'll get caught in the rain. 
So that you aren't lugging a case full of lens, you could just bring an 18mm-300mm and use only that one for your entire trip.  If that seems a bit too cumbersome for a walking around lens, you could bring two lenses: an 18mm-55mm and a 70mm-300mm.  That's what I do. 
Tripod
Get one that can adapt to use with your smart phone and a camera.  I always travel with my Joby Gorilla Pod for tabletop use that I mentioned above. 
I will also bring my lightweight Manfrotto travel tripod to set up on deck or to take on a nature walk shore excursion.  Be sure to buy a smartphone adapter, too.  
Memory Cards
Do not scrimp on a memory card.  Get a brand name like Sandisk or Lexar.  I'd suggest two or three higher grade cards.  I bought two Sandisk Extreme Pro 32 GB cards.  One card might be enough for most cruisers, though.  Just be sure to back up your photos at least every other night.  Speaking of which…
Photo Storage
Don't take a chance of losing those amazing Alaska memories.  Whether you travel with a laptop or external drive, get in the habit of transferring and backing-up your day's photos before you go to bed.  Make sure you bring their cables, too.  
I'm on my third external portable drive, the LaCie 4TB Rugged Portable External Hard Drive.  I like it because, like the name says, it's rugged.  I also bought a travel case for it.  Plus, the travel case has convenient slots for your memory cards.

LaCie 4T Rugged External Hard Drive
Emergency Charger
My go-to favorite portable charger is this one by Mophie.  It has three charging ports and a tough fabric-like case.
Extras to Bring on an Alaska Cruise
Coffee Mug
Yes, there are a lot of these out there.  I've become a fan of Hydro Flask.  Why? Their coffee mug (with the lid on) keeps hot beverages hotter longer than Yeti, and cold beverages colder for just a little longer, too.  Plus, the company is wonderful to deal with if you need a replacement or have any questions.
Why pack a mug for an Alaska cruise?  I love to have my morning (or afternoon) coffee on deck, breathe in the crisp Alaska air, watch the steam rise from the mug and search the shoreline for wildlife. 
Coffee or tea in a cruise ship's coffee mug just doesn't hold the heat and doesn't have a lid.  So I pack my trusty Hydro Flask coffee mug on every cruise.
Just do everyone onboard a favor:  when filling your mug at the coffee station, keep it away from the spigot.  Or fill up a ship's coffee cup and then transfer it to yours.
Freezer Bags
Always bring three or four zip-lock freezer bags.  I bring two of the large size so, as I mentioned, I can pop my camera into one in case of rain.  There's always a use for small sandwich-sized bags, too.
Travel Alarm Clock
I know my iPhone has a clock and an alarm.  But recently I started to always pack this basic, super-simple folding small travel alarm clock with me. 
All it has is an alarm and a digital clock face.  There's a disable switch so the alarm won't accidentally ring if it gets bumped in your suitcase.  Now I don't have to double-check that my iPhone alarm is set every day or that I'll hear it if the phone volume is off (yes you will).
Nightlight
I usually sleep with the stateroom bathroom light on and the door closed.  Just enough light is emitted around the crack under the door.  But it's so darn bright when you walk in during the night.  So I bought this little plug-in night light, one for home and one for travel.  It stays on all the time and doesn't blind you when you walk into a dark bathroom at 4am.
There you have it.  Everything you need to pack for an Alaska cruise. I hope my Alaska packing tips are helpful! 
Have a wonderful time!  If I've missed something, please leave a note in the comments below.
Here's your Printable Alaska Cruise Packing List 
More Alaska Travel Ideas and Inspiration!  Check Out These Articles…
Please Pin and Share!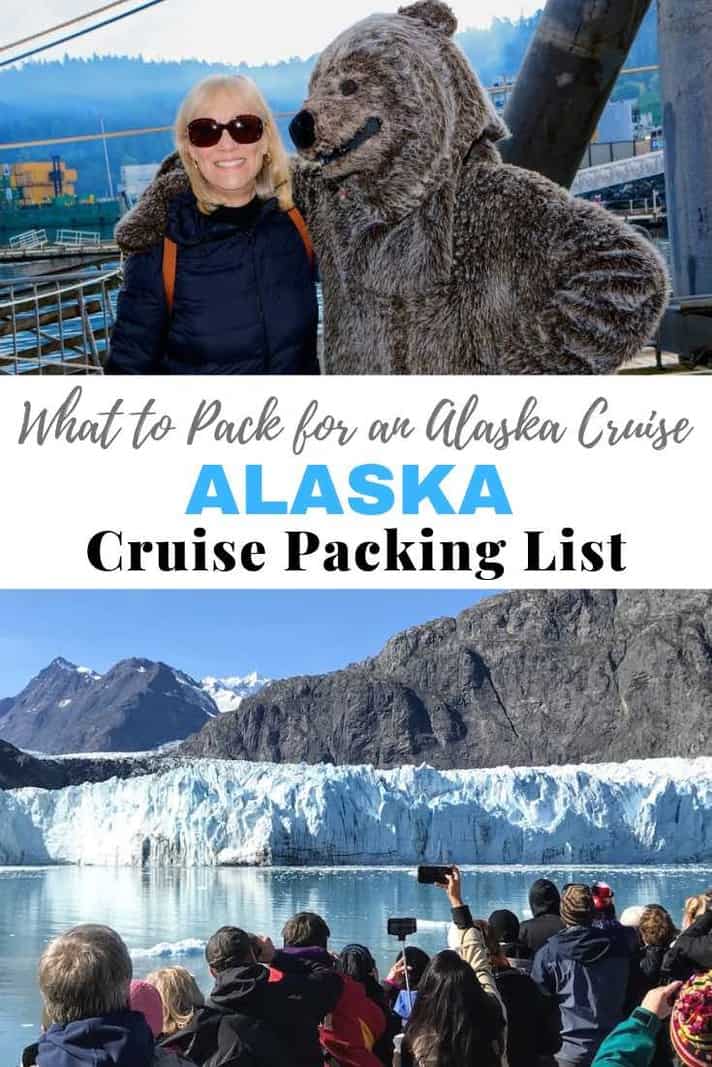 Sherry Laskin
I'm the editor and creator of CruiseMaven.com, a solo traveler cruising the world on waves and wheels, collecting recipes along the way.  I hope my articles and photos entertain, advise and inspire you to travel the world without flying.  Take a breath…stop for a local meal and a glass of wine along the way.