Many people are traveling to the Dominican Republic in search of the best pool parties and the best entertainment. The solution: Riu Party in Punta Cana. Riu Party is a concept catering particularly to those looking for day and night entertainment and pretty wild parties. And let me tell you, it is indeed massive. While you can read about our Riu Party experiences below, we are also giving you an overview of the Riu party schedule, the all-inclusive resorts which have access to those Punta Cana parties and all the things you need to know when traveling to Punta Cana for the Riu pool parties and the Riu foam parties.
What is Riu Party Punta Cana?
Riu Party is a concept consisting of different themed parties in Rius all-inclusive resorts in Punta Cana. The parties are taking place at the Riu Party venue in the big Riu property and are consisting of pool and foam parties, some at night, some during the day. Together with Coco Bongo Punta Cana, which is a separate excursion, it is one of the biggest and wildest parties in Punta Cana. Without a doubt, the Riu Party venue is the best option among all all-inclusive resorts in Punta Cana when you're looking for the best and most spectacular pool parties.
The Riu Party venue
To better understand how Riu Party in Punta Cana works, let me show you the map with resorts in this particular area in Punta Cana.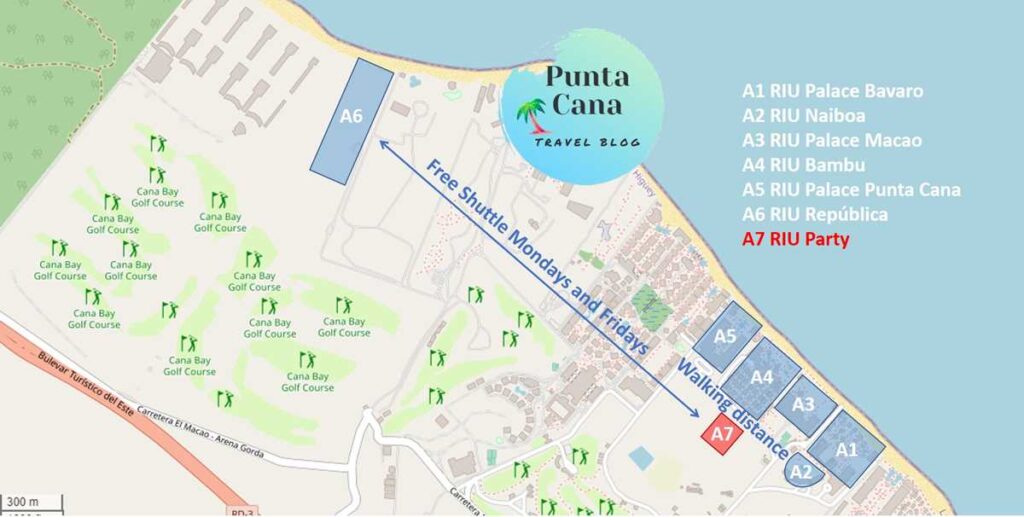 As you can see the Riu Party venue is located inside the big Riu property, right next to Riu Bambu and just a few minutes walking away from Riu Palace Macao, Riu Palace Bavaro, Riu Palace Punta Cana and Riu Naiboa.
The great thing about the Riu Party venue is that it is set back from the resorts and particularly the accommodation buildings, which is why you still can have a quiet and romantic holiday at the Riu resorts in Punta Cana, without being disturbed by the Riu pool party.
The venue of Riu Party is well designed and super suitable for those kinds of parties. Usually, you would pay a lot of money as an entrance fee if you visit such an event outside of an all-inclusive resort, particularly in the United States or Canada.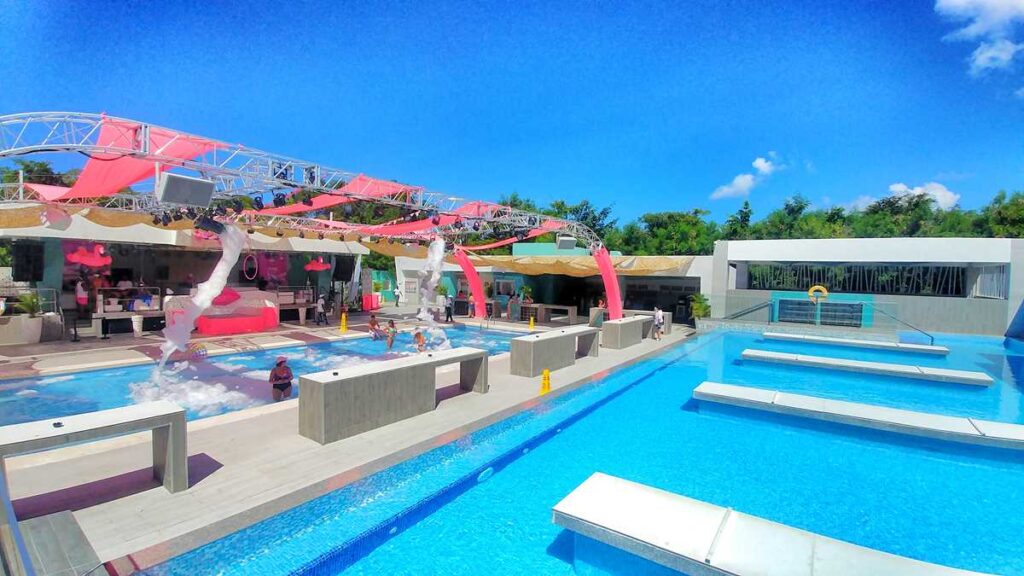 There are 2 pools, 3 bars (among them 1 swim-up bar), 1 snack bar, a VIP lounge (available for an extra charge), the stage and two seating areas for those who don't want to get wet or want to relax a bit.
The Riu Party schedule in Punta Cana
The Riu Pool Party schedule consists of 4 parties a week – two during the day and two at night. They are taking place as follows:
Mondays, Jungle Party, 3 pm – 7 pm
Wednesdays, White Party, 7.30 pm – 11 pm
Fridays, Pink Party, 3 pm – 7 pm
Saturdays, Neon Party, 7.30 pm – 11 pm
All those Riu pool parties are hosted at the Riu Party venue in the big Riu property.
TRAVEL COACHING
Save money and time!
Do you need help planning a customized vacation in Punta Cana and the Dominican Republic? Is it difficult for you to decide what and where to book? Would you like to take advantage of someone with years of experience in the tourism industry (knowing all the travel hacks 😉 ) and living right in the place where you would like to spend your holiday?
That's what my personal travel coaching is for. I will design your tailor-made itinerary, tell you how to save money on your trip and send you the best insider tips and recommendations. All the information I send you are crafted with love and passion – and are coming with a money-back guarantee. Let me know how I can help you (check my packages here) and send me a request here!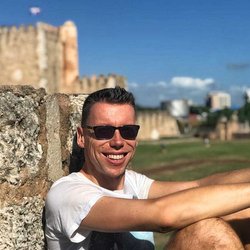 The same schedule can be found for Riu Santa Fé in Bajo California (Riu Santa Fé, Riu Palace Cabo San Lucas, Riu Palace Baja California) just in case you're getting to this page here when looking for information about Riu Party Santa Fé.
Additionally, Riu República features a Wednesday night party as well (called Riu Get Together Party):
Wednesdays, Neon or White Party (alternating), 7 pm – 11 pm
There is no entrance fee, Riu party is free. Only Riu guests have access to those Riu parties.
Which hotels do have access to Riu Party Punta Cana?
But in which hotel do you have to stay to access Riu party Punta Cana?
The following table shows the access rights for each of the parties:
As you can see, all the Riu properties do have access to the 4 weekly Riu Pool Party events, except for Riu República, which has only access to the two Riu pool parties during the day (Monday and Friday) with free shuttles from the resort. Instead of the nightly Riu pool and foam party, there is a separate party exclusively for Riu República on Wednesdays.
Therefore, Riu República has one party less per week (3 in total) than the other Riu resorts in Punta Cana (4 in total). However, this doesn't mean that there are fewer parties at Riu Republica. This particular social resort, sometimes also called a party resort in Punta Cana, does have spontaneous pool gatherings every day (even though they are not as packed as the pool parties mentioned above) and the disco is one of the most attractive ones (packed as well) among all the all-inclusive resorts in Punta Cana. You can read more about the parties and gatherings in our extensive Riu República review (which is going to be published soon).
How does Riu Party work?
As long as you know the Riu Party schedule and have booked the right hotel, you are already well prepared for the Riu pool party events in Punta Cana.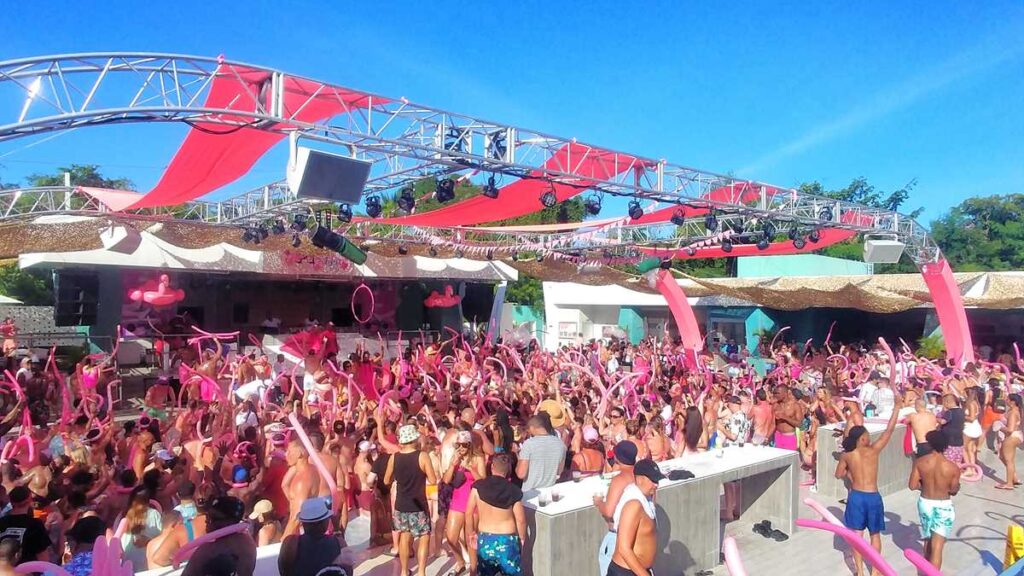 Depending on the party theme, it is recommended to dress in white, pink, neon or any jungle colors, but this isn't mandatory. There is no entrance fee and once you are at the venue, you just can get your drink(s), dance and enjoy. I wouldn't bring much stuff except your room key, sun protection and shoes as everything might get a bit wet. Interestingly enough many people even left their cell phones in the hotel – not because of security, but more because of the water and because they wanted to fully enjoy the party. If you have a waterproof cell phone and want to take photos, feel free to bring it to the party. Except for tips, you don't need any money either.
– Most Popular Posts on Punta Cana Travel Blog –
Snacks and drinks are included, you don't have to buy anything. Drinks are mostly made with local brands, but they have a few international liquor brands, such as Beefeater Gin, Martini or some others.
Our experiences at Riu Party
To be honest, we were completely flashed when visiting the Riu pool parties. We knew that Riu República is mostly considered a party resort and we knew that the big Riu property with Riu Palace Macao, Riu Palace Bavaro, Riu Palace Punta Cana, Riu Bambu and Riu Naiboa has a separate venue called Riu Party, but we didn't know that it will be such a vibrant, packed and unforgettable party. Considering that many all-inclusive resorts in Punta Cana are trying to offer good entertainment, Riu Party is one of the few options where real party people will be pleased. The venue was full (even though it was low season when we visited), everyone was partying hard for a couple of hours and the vibe was simply outstanding compared to what I have seen during 7 years in the Dominican Republic, when I have visited dozens of Punta Canas' resorts.
When writing about our experiences at the Riu party in Punta Cana, I am not just talking about one of those events. In total, we have visited three parties, 2 Riu pool parties at the Riu Party venue and 1 Get Together party at Riu República.
The music was always a good mix of international favorites, electro, Latin charts and party songs. It always got the crowd moving, the DJs did a great job.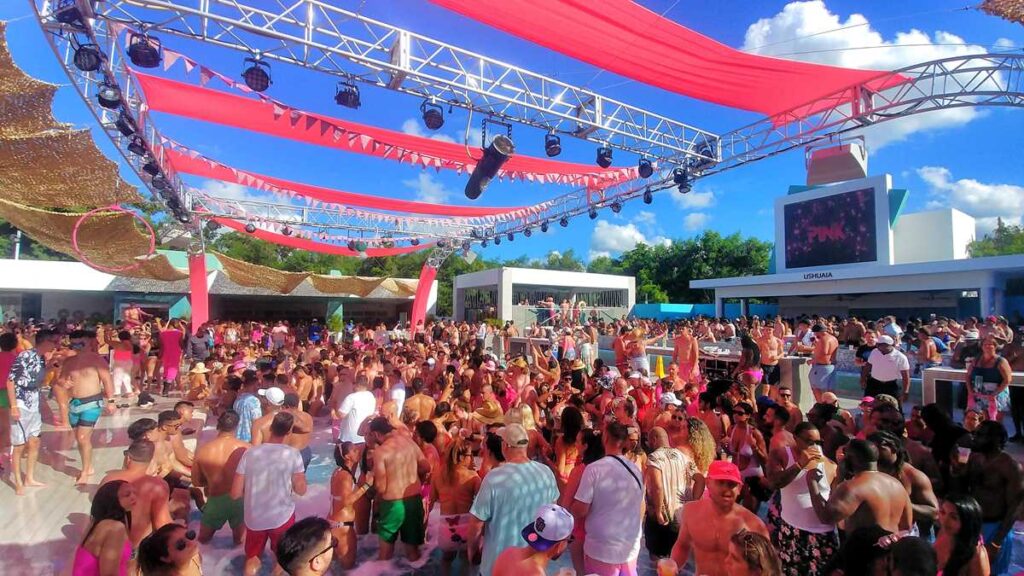 At all the Riu Party Punta Cana events, they always had some special effects guaranteeing even more fun and entertainment. At the Riu pool party, they had constant foam (hence it was also a Riu foam party), big pool balls, a twerking contest, optional make-up for each participant according to the theme and big long balloons to emphasize the party vibe even more.
Insider tip: when coming from Riu República for the Riu pool parties on Mondays or Fridays, take one of the earlier shuttle busses to be able to fully enjoy your time. The party is getting started quickly anyway and the time will fly by, hence an earlier shuttle bus guarantees you more time at the party.
If we would have to look for something negative about the Riu Pool Party in Punta Cana, it would be two minor things:
– the floor is pretty slippery next to the pool, hence you should walk with caution. A couple of people were slipping.
– for the pool and foam parties at Riu during the day (Mondays and Fridays), the lines at the bar were pretty long. For the night parties (Wednesdays and Saturdays), you got your drinks much faster (don't ask me why, because it was equally packed)
Get your free e-book now – "16 amazing things-to-do for free in Punta Cana"!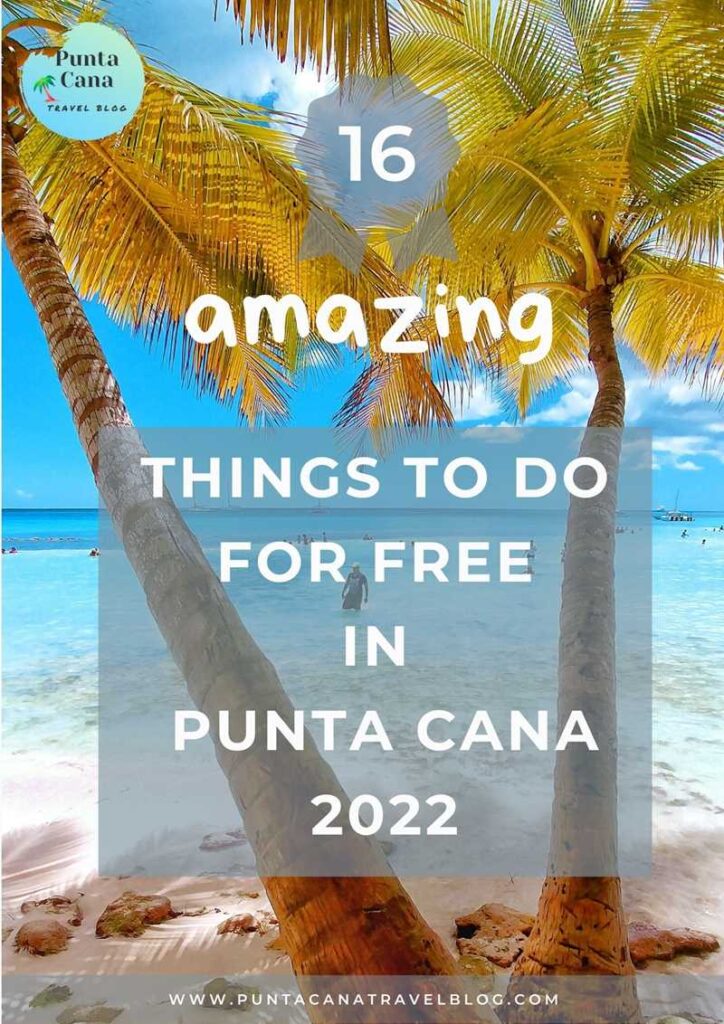 We also visited the Wednesday party at Riu República, which was a neon night party. Compared to evening entertainment shows in other Punta Cana all-inclusive resorts, this was also such a massive party. They had a great DJ, a lot of special effects and very active people, which was the combination for a great party.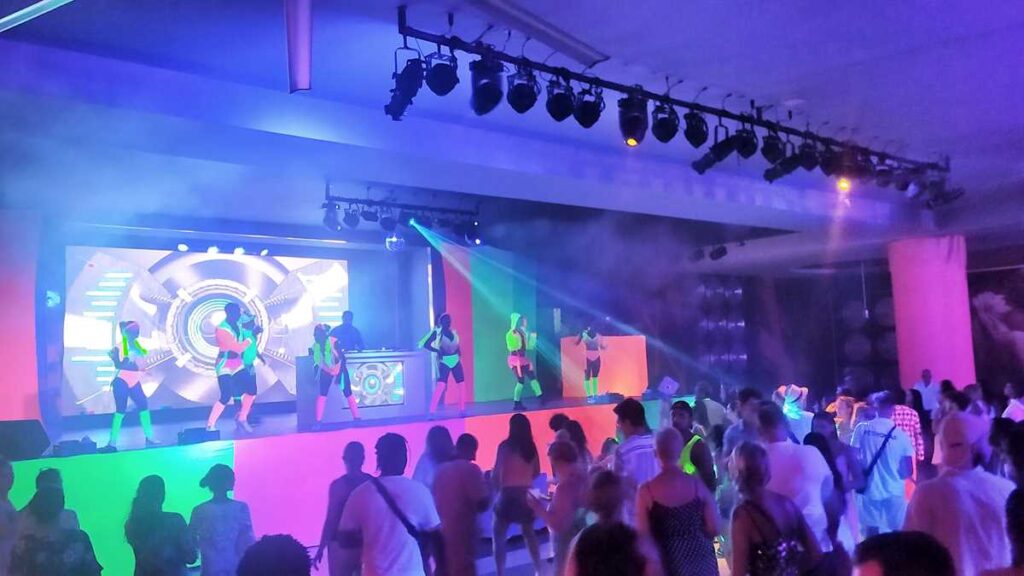 In which hotel shall I stay to visit Riu party?
Ok, we have outlined above which hotels do have access to which Riu Party in Punta Cana. But are you wondering which is the best all-inclusive resort to stay at in Punta Cana, depending on what preferences you have?
If you want to party hard during your entire vacation in Punta Cana, Riu República is definitely your choice to go. Even though you have one official Riu party less than in the other Riu resorts, you'll find the most like-minded people here and have spontaneous pool gatherings nearly every day. Additionally, Riu Republica has the best all-inclusive disco, which is packed most of the nights. Single travelers are also perfectly taken care of at Riu República.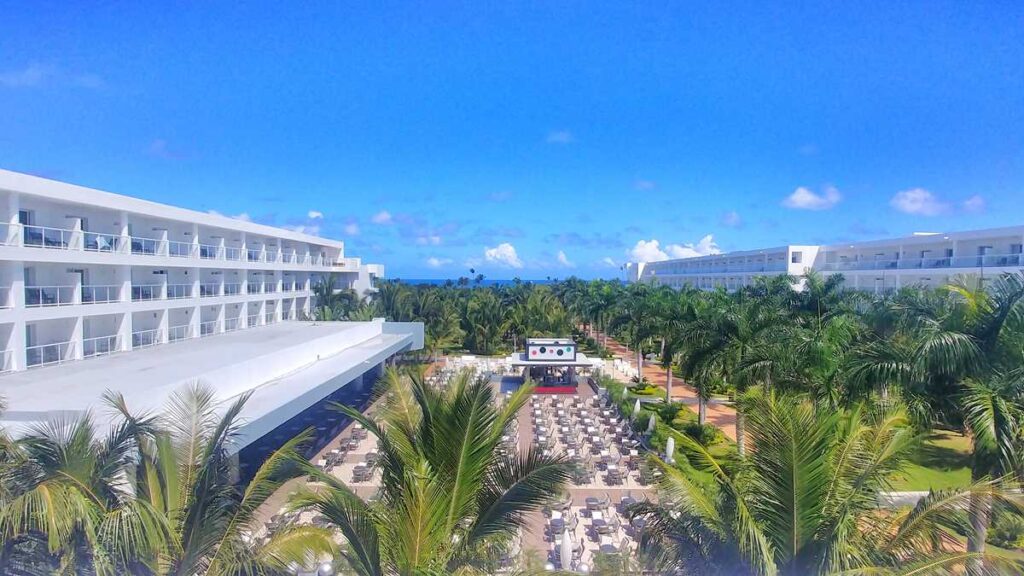 If you are a couple looking for a bit of luxury including some quiet hours in your vacation without abstaining from partying, one of the Riu Palace hotels (Riu Palace Punta Cana, Riu Palace Bavaro, Riu Palace Macao) is your best bet. During your holiday, you can indulge in some quality food, comfortable rooms and direct beach access while you also have access to the 4 weekly parties at the Riu party venue.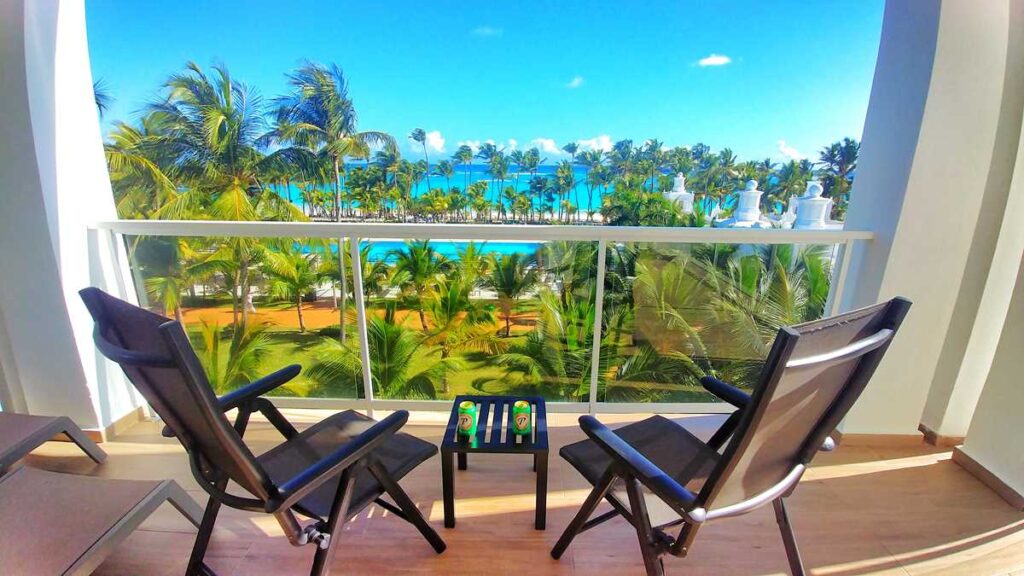 And if you a traveling to Punta Cana on a budget but still don't want to miss the Riu Party Punta Cana events, you can book Riu Bambu or Riu Naiboa. Riu Bambu is also a pretty social resort, hence if you're traveling as a family but don't want to miss out on lots of activities, Riu Bambu might be the perfect option for you.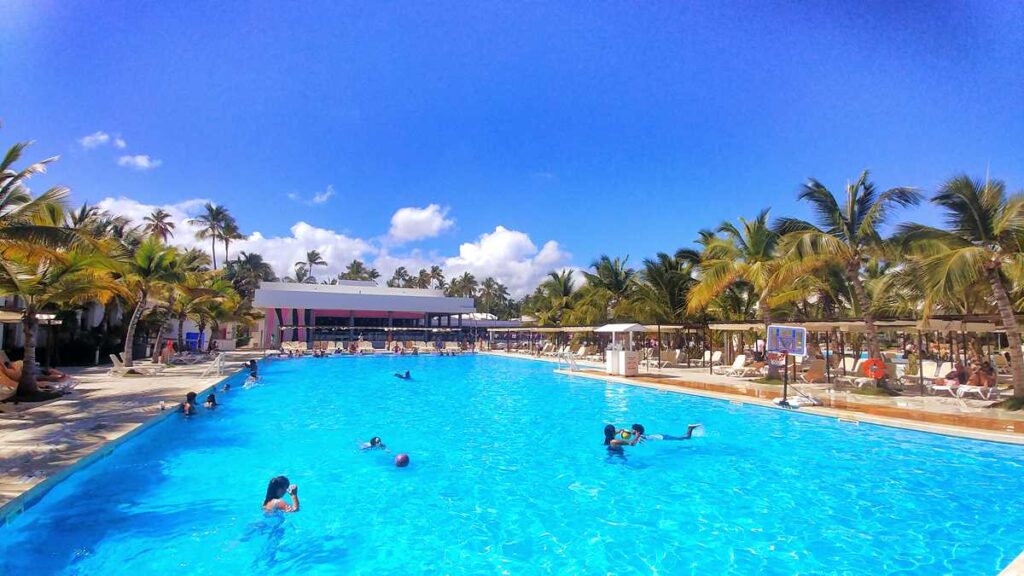 Summary
As you can see, the Riu Party Punta Cana events are extremely fun and a great option if you are looking for parties, entertainment and socializing. They are the best all-inclusive resort parties you can find in the Dominican Republic and thanks to the 6 different Riu resorts in Punta Cana, you have a lot of choices for picking the right accommodation.
When visiting Riu Party in Punta Cana, the only thing you have to do is to have fun. The themes are well-selected, the crowd is ready to party, the decoration fits perfectly and the organization of the parties is well done. Even the shuttles between Riu Party and Riu República are working fine and on time.
After all, if you'd like to party in the Dominican Republic and want to enjoy the (resort) nightlife in Punta Cana, the Riu resorts with their Riu Party offering are your place to go. And if you need even more entertainment and party, you can book a tour to Coco Bongo Punta Cana and keep partying all night long.
SHARING IS CARING! IF YOU ENJOYED THIS ARTICLE, PLEASE SHARE WITH YOUR FRIENDS – I WOULD APPRECIATE IT A LOT.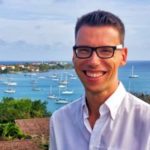 CHRIS
Author, Travel Coach & Punta Cana based digital nomad
Hey, I am Chris, a born and raised German, travel-addictive and Caribbean Soul. Since 2011 I have been living in the Caribbean, among them 5 years in the Dominican Republic. Punta Cana is my home-base here in the country and I'd love to tell you more about how to experience Punta Cana off-the-beaten-track and give you all the advice you want to know for your vacation in Punta Cana.